Moss Awareness Week @ McGaugh's
This week is moss awareness week at McGaugh's Gardening Complex. Whether you have moss on your tarmac, paths, lawns or roofs we will be giving you all the tips and tricks you need to get rid of the moss.
There are many products which Ger and the team here at McGaugh's recommend to get rid of your moss. Some of these products include: Moss Buster, Moss Master, Aftercut All in One and GreenForce Lawn Gold Classic. All of these products come with step by step guides on how to use them as well as dilution rates.
Moss Buster:
Moss Buster is a product by Wes-Chem. It is a fast acting 4 in 1 killer which kills moss, algae, lichen and fungi. Moss Buster is also rainproof after 180 minutes of use and will last for up to 12 months. Results can be seen as quickly as 90 minutes after application in some cases. Moss Buster contains no bleach and is also biodegradable.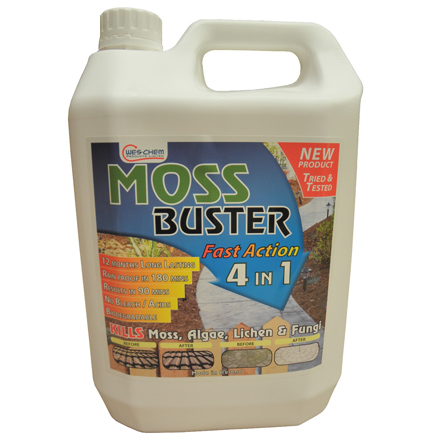 Moss Master:
Moss Master is an acidic soil neutraliser and lawn feed which improves the pH condition of soil in a lawn and in turn unlocks nutrients and improves lawn health. Moss Master is rich in a wide range of essential nutrients, it reduces waterlogging in lawns and greens up the lawn. It is also safe for children, pets and wildlife.
Aftercut – All in One:
Aftercut All in One is a triple action lawn treatment. It greens and feeds the lawn, while also controlling weeds and moss. It will green the lawn in as quickly as 7 days, kills weeds and moss and conditions and nourishes. It is available in a range of sizes and products, including an even flo spreader, different size boxes and different size bags.
GreenForce – Lawn Gold Classic:
Another product we have in stock here at McGaugh's is GreenForce Lawn Gold which is suitable for treating moss in a lawn. It is an organic based lawn fertiliser. This product will treat your moss while also feeding your lawn using a slow release technology. There is also no need to rake the moss that has been treated because it shrinks the moss into the ground.
Top Tips:
For lawns, moss products can be applied by hand or by using a spreader.
If the product you use requires you to rake out the moss we have a variety of different rakes available.
Long term help for lawns can also include: lawn aerating shoe spikes or a hand held version.
Now is a great time to start tackling the moss.
Any questions & queries please call into us at McGaugh's and we will help you with tips and advice.
Or you can phone 091 755330
Happy Gardening,
Ger and All The Team @ McGaugh's